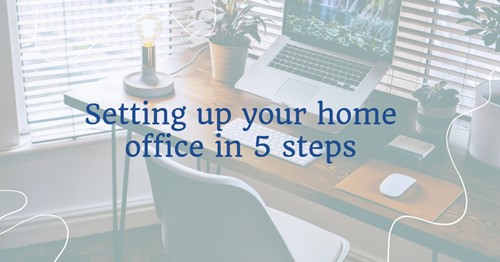 Remote work has changed the way someone might set up their home office. Where we had a desktop pc, we now have tablets. Desks and tables once had to be tucked away in a room to avoid noise, now we use noise-canceling headphones. Instead of filing cabinets overflowing, we now concern ourselves with video quality.
But even though the technologies of the average workday may change, some facets will remain the same, especially when it comes to initial setup.
Here are five quick and simple ways to set up a quality work environment in your home:
Internet service
One of the most important aspects of any office is the internet service. Home offices are no different.
Ensure that you can have service hooked up in your designated office area. If not, you'll need to make sure wherever your internet connection hub is, you have a Wi-Fi router securely connected to your internet modem. It should have a long range, so it reaches every aspect of your home.
Office equipment
You don't have to wait to set up your internet connection to get the office equipment you need. Standard pieces include a computer (desktop or laptop), monitor stand, keyboard setup with mouse or trackpad and a good set of speakers or headphones.
These items are key to setting up your home office. Equipment such as a paper shredder or all-in-one printer can also add an extra layer of ease to your workspace.
Office atmosphere
Your atmosphere can be set by honing in on a few key elements: location, lighting and detachment from the rest of your home life during working hours.
For example, make sure you set your home office up in an area that is logistically sound for your day-to-day activities. If you enjoy taking a walk during your lunch break, make sure you have an uninhibited path to explore, such as a garden trail. Likewise, if you require a clear separation from your home life and work life, try relocating to a room that doesn't get much use.
Lighting can be adjusted, regardless of location. However, it's great to use natural light as a means of maintaining a schedule and giving yourself a good routine. You'll also want to keep a good task light handy for video meetings, as good lighting can affect video quality during meetings.
Ergonomic office furniture
Finding the perfect lighting and location are excellent places to start when designing your home office. Once you've determined the two, try finding the perfect office furniture to match.
For desks, make sure you find one that's a comfortable height for your daily work. You may also want to find a desk that can fit nicely into a corner, as to keep areas open and free. Under-desk storage is also a great way to keep the clutter down.
Adjustable seating is also a valuable addition to a home office. With a plethora of different seating types and individual seating requirements, it's best to find one that can accommodate a stationary day-to-day workload but can either transition to a more mobile or ergonomic position as needed.
Small items like trash cans or recycling containers can also add to the atmosphere and ease-of-use in your home office.
Work-life balance
The last thing you'll need for your home office is a great reminder to start and stop your day. Add a clock or a few reminder alarms on your devices that tell you when to start your workday and when to take breaks. It's also important to know when to stop for the day, since working from home can create a productivity vortex that takes up more than your average workday.
Be sure to set reminders for yourself to take breaks throughout your day and change the environment you're in by exploring other parts of your home or just outside. Using some of your downtime or breaks to do a few household chores may also help minimize your weekend stress by whittling down your to-do list.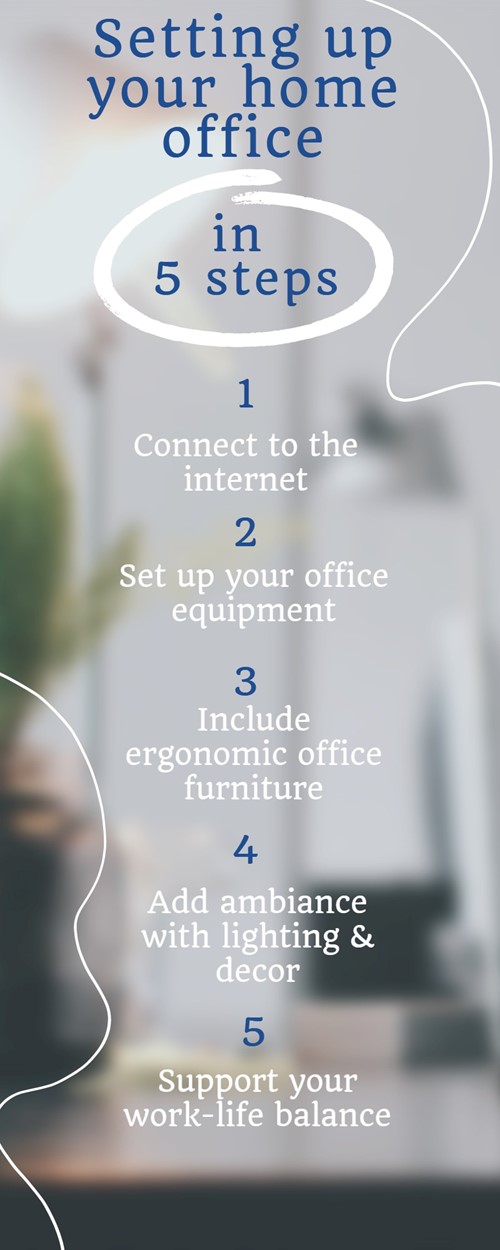 Regardless of your ideal work environment, using these tips to help get you started is a great way to master your space and make it work for you.